Ive Handpicked These Myself and KNOW They
Pay Out !
Posted on
The Contenders
When going through the various websites, I was looking for three factors, which, in order of importance, were:
Higher pay
Payment options
Low cash-outs
Do remember that these tasks are (by design) very low payed, so don't expect to get rich from them. That said, if you just want to fill idle time and earn a few bucks, or if you live in an economy where the pay is appealing, you might find them useful. The aim here was to establish how you can maximize your earnings by doing exactly the same tasks on different sites. Without further ado, here they are:
ClixSense started as one of the many PPC (pay per click) advertising sites that's been around. It's been around for some years, so it should be here to stay. As part of its evoltionary process, it offers CrowdFlower tasks through their existing platform, making it much easier to reach the $8 minimum cash-out. The pay comes in a bit lower than mTurk but higher than most others. The pay can be boosted further by completing the daily bonus for an extra 5% (12% for premium members), which involves doing a few PTC activites and completing a couple of offers (there are usually simple video offers). There's also prizes issued weekly to the most active task workers. They support a range of payment options including PayPal, Payza, and Liberty Reserve and pay on request every Monday afternoon.
While I've always disliked PPC sites in general, thinking it pointless to click on a few penny adds a day, I actually took to ClixSense. It shows what's possible when you try to provide a rounded service to users. The offers also provide decent compensation, and many of them are free to participate in (such as surveys). I cashed out my first $8 to verify the process. I've upgraded my account to premium since writing this article, seeing as the cost is very low. In addition to the 12% daily bonus, there seem to be more PTC ads offered on a daily basis, and the ClixGrid timer is halved to five seconds, making it a bit more enjoyable.
PaidVerts pays you to interact with advertisers!
Paid ads will be delivered to your account daily. All you have to do is copy 3 lines of text about the ad. And then visit the website for 30seconds to unlock your instant cash payment.
NeoBux, at first glance, appears similar to ClixSense, but the pay on its Crowflower tasks is a little higher, and every dollar of work also earns an extra 12% bonus. Cash-outs are instant and start out at $2 minimum, raising by $1 each time until it reaches $10. There are some modest fees on the cashout, which supports PayPal, PayZa, and NetTeller.
Looking at the offer walls, while ClixSense pays into the cash balance, NeoBux is a little more complicated. For example, instead of converting straight into cash, the offers convert into either NeoPoints or NeoCoins. NeoPoints can be used to buy things within NeoBux, such as Gold Membership for 30,000 NeoPoints. NeoCoins on the otherhand can be converted into cash after 30 days, and you get a better rate the more you convert at once. Note this doesn't apply to CrowdFlower tasks, which always pay straight into your cash balance.
There's also a system of referral renting where you can pay to rent referrals and receive money back when they click.
A little different to the others, callmemoney.com focuses almost exclusively on crowdflower tasks, although it does include a couple of offer walls to raise your income further. Pay rates are reasonably good, though less than NeoBux and ClixSense. It also has a 10% bonus for every $1 earned. The mimimnum cashout looks good at only $1, which can be payed into either a Payza account or bKash account (a mobile phone transaction system for Bangladeshi users). There's no PayPal option available, which is a bit of a downside, so I'd lean more to the slightly higher rates on NeoBux personally. That said, I can imagine it might be more convinient for a lot of users, especially those in Bangladesh.
While the site looks a little basic, it does seem to work as it should, and my first cashout was paid into Payza within an hour or two.
Update : I've just noticed that the pay rates have decreased on callmemoney. The new rates come in less than ClixSense and NeoBux, and about the same as Rewarding ways. I've updated the table and conclusions to reflect this.
Rewarding ways is, without doubt, the most comprehensive paid offer site I've looked at so far. On the crowdflower tasks, it doesn't pay as much as some of the other sites. On the positive side, it has a minimum cash-out of only $1 with no fees. There's also a $200 monthly prize fund split between the 30 users that complete the most offers. Payments seem to be processed daily, but after a few withdrawals you can receive instant PayPal payments. They also support payment through Liberty Reserve and Skrill (Moneybookers). While you might prefer to do serious Crowdflowering on a better-paying site, the sheer scope of the offers available and the favorable payment terms means it's well worth joining.
Superpay.me is fairly similar to Rewarding ways, so there's not much need to discuss it in depth. The scope of offers, pay rates, and payout system seem just as good, so it'll largely be a matter of preference as to which one you want to join. There do seem to be some slight differences on the pay rates for the same offers, so you might want to have an account on both to maximize income.
While updating this page, this was the second site I came across that is functionally similar to Rewarding ways. While the layout and look of Offer Nation is a bit slicker than the others, it looks to be essentially the same offers, tasks, and payout system again. As before, it's probably just a matter of preference, although you may benefit from joining all three.
Following the same principle as NeoBux, ProBux is another PTC site that offers rental referrals. They also offer CrowdFlower tasks, but unfortunately the pay offered is half that of NeoBux (and sometimes less), so I can't really recommend it for this.
That said, it might be worth a look if you're interested in referral renting and want an alternative to NeoBux. The minimum cashout is $5, which is paid instantly through PayPal, Payza, or Liberty Reserve.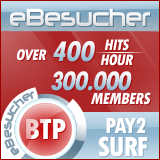 Earn money with our visitor- and mail exchange
eBesucher unites interested visitors and active advertisers. Our platform, which is free of any costs, provides internet traffic to participating sites and more money on the bank account of our users. More than 500,000 members have signed up!
Earn money for surfing the web and reading emails!
Additional money for referring friends
Minimum payout of 2€ on your PayPal- or bank account



Swagbucks is more of an offer and survey site, again with the option of doing tasks. SwagBucks are collected and used to purchase rewards, such as gift vouchers. One swagbuck seems to be worth about a cent, but this of course might vary by reward. I used the value of gift vouchers as a guide.
Comparison
Below is a table showing the published rates for two tasks on August 9, 2012. Task A was a product categorization task, while task B was a business research task. In some cases the tasks were collected into batches, in which case the rates are adjusted to compare with a single task on mTurk. In cases where non-cash rewards were used, the given value is an estimate of the rewards' monetary value.
Task Pay for Identical Tasks on different Websites
Website
Pay (Task A)
Pay (Task B

Payout

Comfirmed

Notes
ClixSense
$0.074*
$0.0315*
$8 Cashout (various methods)
NeoBux
$0.09*
$0.035*
$2 Cashout (various methods) rising to $10
Rewarding Ways
$0.06
$0.02
$1 Instant cashout (various methods)
Superpay.me
$0.06
$0.02
$1 Instant cashout (various methods)
Offer Nation
$0.06
$0.02
$1 Instant cashout (various methods)
Callmemoney
$0.066*
$0.022*


$1 Cashout to Payza or bkAsh
ProBux
$0.04
$0.02
$5 Cashout (various methods)
eBesucher
$0.04
$0.016
$2 Cash-out PayPal & Others
Paidverts
$0.20
$0.10
$2 Cashout (Various methods)
SwagBucks
$0.04
$0.01
Estimated earnings based on value of rewards

*With available bonuses
Conclusion
There's clearly a huge difference between the different websites, so it's important you pick the right one. Unless you're interested in Facebook credits, every website offers less than the base rate on Mechanical Turk. If Turk suits you, I suggest sticking with this to maximize your earnings.
Looking at the alternatives, if you want the maximum rate of pay,NeoBux comes top. It offers 80% of the basic rate, plus a 12% (24% with gold membership) bonus on every dollar earned, which takes it to about 90% on a standard membership. It's been around for over five years now, and I've yet to find an alternative that pays more. The downside is that the minimum payout gradually rises to $10, and the offer walls pay in a complex points system rather than straight cash.
ClixSense comes second overall, because while its pay is a little lower, it has been around for a while and has a good selection of PTC and offer walls (which all pay in cash). The pay comes in at about 70% of base rate, with a 5% daily checklist bonus on top for a total of 74%. The bonus is increased to 12% if you opt for the relatively affordable premium membership.
Honorable mentions go to Rewarding Ways, Superpay.me, and Offer Nation. While these pay a little less than the sites above, they are very comprehensive sites with numerous offer opportunities and low $1 cashouts with no fees.
Callmemoney, which pays about 60% of base rate plus a 10% bonus on every dollar for a total of 66%, used to actually pay slightly more but cut its rates. The web site is fairly basic but functional. The minimum cashout of $1 (with no fees) is a big plus, and the bKash option is no doubt a great boon for Bangladeshi users, but I would still prefer a PayPal option as well.
When we look at the other sites, given that these are already relatively low-pay tasks, you have to wonder why you would bother doing them for less than half the base rate when there are better options out there.